• ExpOSe Mix Series • The OS Community • ExpOSe Mix Series • The OS Community
CINNAMAN

Hometown ······· Amsterdam, NL
Favourite Snack ········· Apple
Favourite Colour ········· Green
Instagram ······

@cinnaman
Longtime OS favourite and Amsterdam's dance music playmaker Cinnaman needs little introduction.

With a record spanning residencies at 3 of Amsterdam's most respected clubs and his work with the legendary Rush Hour records, it's an honour to have Cinnaman along for this expOSe. Honours were had prior to having Cinnaman play for one of our Creature Comforts parties back in 2017, and it's good to see their taste is as eclectic and bumpin' as ever. Treating us to a cherishable 120 mins of woozy house jams, oddball electronica and 4x4 turbulence, best buckle in for the power hour(s) baby.


DJ NATIVESUN
Hometown ······· Washington D.C., USA
Favourite
Snack ········· Cashews
Favourite Colour ········· Green
Instagram ······

@d

j_nativesun
The hyper-talented DJ Nativesun takes the reins for the first half of the latest expOSe.

With a sublime roster of tracks and mixes under his belt, their output has frequently taken up our airwaves and will continue to do so by the sounds of it. internationalJOE selected his track 'Relax' as one of his Black Bandcamp picks that led to us getting in touch and we've been excited ever since to hear what's been cooking for this edition. The mix follows a natural evolution traversing through gritty house cuts, breaks, afrobeats, 2-step and some stomping techno - deftly curated for the dance floor. Bon appetit!



• ExpOSe Mix Series • The OS Community • ExpOSe Mix Series • The OS Community
E

xpOSe Mix 002
RUSSELL E.L. BUTLER
Hometown ······· Paget, Bermuda
Favorite Snack ·········
Chocolate
Instagram ······

@russellelbutler
We have a lot of love for Russell Butler who we had the pleasure of hosting for our OS party back in October last year.

Cutting their teeth in the Bay Area and now based in NYC, their tireless work rate (and the abundance of bangers) is one of the reasons why they are one of our favourite artists in the scene. It's difficult to sum their sound up in a few words, which is readily apparent in the bomb mix that they have provided for us, so lock in and enjoy.


BABY K
Hometown ······· London, UK
Favorite Snack ········· Thai Sweet Chilli Crisp
Instagram ······

@_kafk
Core member of Black Bandcamp, Bristol & London based Baby K crossed our path on many a smokey dancefloor over the past few years.

Hazy strangers until they approached Joseph last October with the opportunity to contribute to the excellent Black Bandcamp project. Part of the Community ever since, he has provided plenty of fire in the belly for this mix with serious dance NRG from the likes of ghetto house pioneer Steve Poindexter and fellow Chicago don Fast Eddie. Expect a healthy dose of acid and electro on top to wrap this mix up into a blissful package for your listening pleasure.

• ExpOSe Mix Series • The OS Community • ExpOSe Mix Series • The OS Community
MATRIXXMAN

Hometown ······· Arlington, VA
Favourite Snack ········· Hummus + Pita
Favourite Colour ········· Red at the moment
Instagram ······

@matrixxman
The usually unhinged Berghain regular Matrixxman steps it back a couple of notches from his typical affairs.

Providing us with an absolute stompin' set full of industrial, italo, minimal wave and so much more for this ExpOSe (although don't think you're getting through the whole 90 minutes without at least a few techno heaters).

The mix is peppered with all sorts of goodies including industrial bomb La Vida Sigue Igual on label-fave Dark Entries and tracks from 80s coldwave duo Oppenheimer Analysis, time to dive in!


SOMATIC RITUALS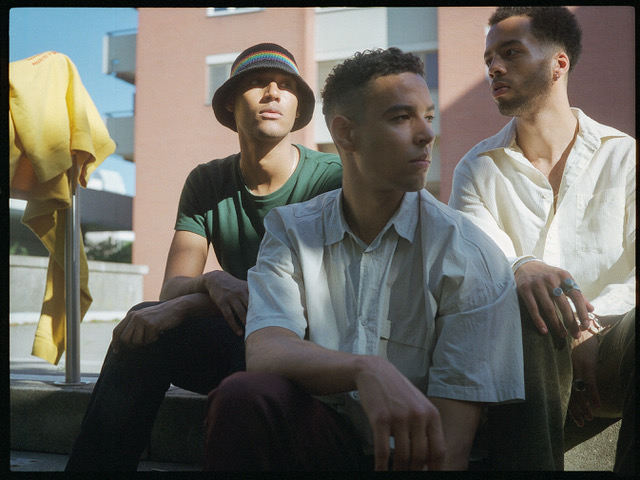 Hometown ······· Basel, CH
Favourite
Snack ········· Fataya
Favourite Colour ········· Orange
Instagram ······

@somaticrituals
Somatic Rituals are a label/collective consisting of Kombé, Mafou and Mukuna who have established themselves at the core of Basel's club scene.

Their ExpOSe mix channels the crew's signature percussive sound that gives nods to the intricate rhythms of their African roots and is heavily interwoven with UK techno, broken beat and of course a splash of jungle courtesy of the legendary Source Direct for good measure. Dig in!